We will show you the most important new CAM functionalities available in TopSolid'Cam 2021. For more details you can check out the "What's new?" document availaible in your TopSolid (under Help). Or use one of these links:
Some development was done in design functions, specific for the CAM users. So it is presented here.
One of the all-time problems in CAM is to have a good surface to machine. Especially when sweeping multiple faces, it is handy to have 1 good surface. Before it wasn't always easy to create that surface.
For example, performing a sweeping on these surfaces (see image)
This problem is gone now. By using a combination of sketch en surface functions a new surface is easily created.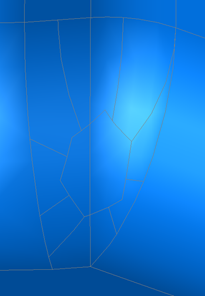 Spatial import (PMI support for CATIA, NX en CREO)
Several enhancements have been made to the import of PMIs (Part Manufacturing Information):
The Hole Feature PMIs are now converted into inoperative holes so that MFs (Manufacturing Features) can be produced for the machining. In addition, the drilling tolerances are automatically applied to the drilling operations. Today this is only available for imports from Catia, NX and Creo.
The imported annotations are stored in sub-folders of the Entities tree. In the graphics area, hovering over an imported annotation highlights the referenced faces.
When importing a document via a Spatial translator (Step, Acis, etc.), you can now choose to create a machined part setup document.
Analysis of drillings and cilinders
Several improvements have been made to the feature based programming of drillings.
It is now possible to keep the tree collapsed after the analysis, It is possible to show or hide selected drillings from the list, you can sort the drillings on diameters in the list and, most importend feature, you can now limit the analyse to a certain direction, so not all holes in all directions of the part are listed.
New 2D operation type: Broaching
The new operation is available in the 2D Milling menu -> Others -> Broaching. With this new type of operation goes a new type of tool, a "broaching" tool.
We can only machine by pushing the material, not by pulling and the toolpath needs to be parallel to the tool axis, so the groove cannot be conical.
You need to take care on the orientation of the tool in the magazine if the machine cannot rotate the tool himself.
Boost milling is a new roughing strategy available in TopSolid. It replaces the older "Volumill" strategy. (It is an extra module, not included in standard license.)
It is generates a 3D milling path and aims to keep the chip thickness constant throughout the operation. Typically it uses big Ap and small Ae which results in smaller machining time and much longer tool lifetime.
7.15 brings some expansions on this module.
It is now available in "End milling", "roughing" and "4X Radial roughing".
It is possible to set a specific coolant during the plunge.
With Boost milling on an End milling, it is now possible to do a contouring at the end with radius compensation.
It is possible to cut in climb and conventional milling. So with a mixed milling direction to win even more time.
You can manage a smoothing from weak to strong. Weak smoothing = path is as much as possible parallel to the part. Strong smoothing = as little as possible parallel to the part.
Boost machining of a groove is optimized to win machining time.
Improved toolpath when machining an open area.


7.14: toolpath turn around the edge of the open pocket
7.15: straight toolpath at the exit of the open pocket
End milling - open pocket exit
When exiting an open pocket, the toolpath follows a straight line.
In all milling operations it is now possible to define the number of passes in Z. This in addition to the already existing "maximal axial depth" mode.
Old and still existing method:
End milling: specific spindle rate in plunge
The new version of TopSolid gives you the possibility to give a specific spindle rate during the plunge in End milling, Roughing and Drilling.
Did you find this blog helpful and/or interesting?